If you've upgraded to Apple's iPhone XS, the new 5.8-inch successor to the iPhone X, you'll surely want a case to keep this premium phone protected and pristine.
iPhone XS cases: Our top picks
Our quick-hit recommendations. Read this article to find out what makes these cases stand out.
Fortunately, there are a variety of nice options to choose from, in styles ranging from thin and unobtrusive, to rugged, to showy. We rounded up some of our top picks. As we review more excellent cases, we'll update this article. So watch this space.
Best iPhone XS clear cases
These clear-as-crystal cases will show off your iPhone XS's elegant form and offer some decent protection.
UAG Plasma Ice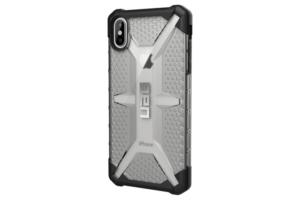 Price: $39.95
Colors: Ice, ash, cobalt, magma
Wireless charging: Yes
Highlights: UAG's cases both look and feel indestructible. The Plasma Ice is no exception, but it also shows off your iPhone through its clear back. Despite its rugged design that meets military drop-test standards, the case is surprisingly light. The buttons are also oversized and easy to press.
UAG's cases come with a 1-year warranty and include free shipping in the United States.
Speck Presidio Stay Clear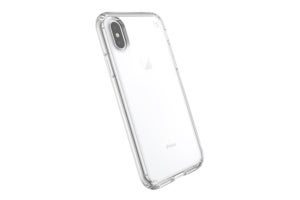 Price: $39.95
Colors: Clear
Wireless charging: Yes
Highlights: Speck's Presidio Stay Clear case is perfect for showing off your iPhone XS while providing ample shielding. The case has two layers of protection and a raised bezel, which is meant to protect your phone from drops up to 8 feet. It also claims to absorb UV rays and oil to prevent smudging. To the touch, the case is unflexing and incredibly tough.
Speck provides free shipping and returns in the U.S. And if you're so inclined, you can pay an extra $5 for two-day shipping.
Gear4 Crystal Palace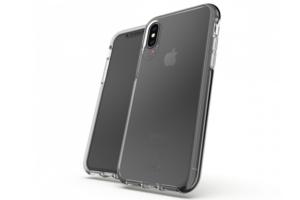 Price: $39.99
Colors: Clear
Wireless charging: Yes
Highlights: The Gear4 Crystal Palace is very similar to Speck's Presidio Stay Clear, except it promises drop protection up to 10 feet instead of the Presidio's 8 feet. It also feels a bit more flexible than the rigid Stay Clear. The Crystal Palace is made using D30 tech, which safeguarded the case during drop tests in sports and motorcycle rides.
Gear4 provides a limited lifetime warranty, offers free shipping globally, and takes 6 to 8 business days to arrive in the U.S with standard shipping.
Best iPhone XS wallet cases
Turn your phone into a wallet with these protective and elegant cases. While not a true replacement for a wallet, these picks can hold a good amount of cards, bills, and papers.
Bellroy Phone Case 3 Card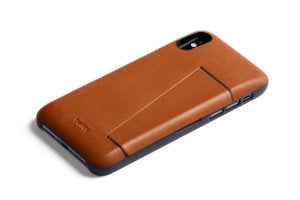 Price: $74.95
Colors: Navy, black, caramel, coral, graphite
Wireless charging: Yes
Highlights: Bellroy is a maker of premium bags, smartphone cases, and accessories with some classic looks. This 3 Card phone case is available for the iPhone XS (as well as the larger XS Max and XR models) and is made from sturdy leather while being surprisingly light. The magnetic card holder on its back can hold about three credit cards or a few bills.
Every Bellroy case comes with an impressive 3-year warranty. Shipping to the United States and Europe is included in the price.
Pad & Quill Bella Fino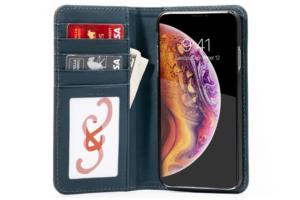 Price: $89.95
Colors: Chocolate, whiskey, black
Wireless charging: Yes
Highlights: If you prefer wallet cases, there's so much to love about Pad & Quill's Bella Fino. The leather case feels incredibly lux and thicker and heavier than other wallet cases we've tried. It also closes with a satisfying magnetic snap and seems durable enough to last for years to come. You can even customize the case with your initials.
Pad & Quill offers an impressive 25-year leather warranty, which is something we haven't seen from any other case maker. Shipping is included for all orders in the United States.
Silk Wallet Slayer Vol. 2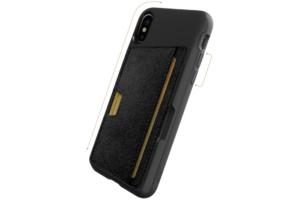 Price: $24.99
Colors: Black, dark red, blue
Wireless charging: Yes
Highlights: This wallet case from Silk has a pleasing textured, no-slip grip and internal air-pockets to protect the iPhone XS. And it snaps on the phone for a perfect, tight fit. Its back can store up to three cards plus a few bills, but that's generally enough when you're on the go. One of the case's clever perks is how you can stick a card in a groove on the back to give it a kickstand.
The case includes a screen protector, a limited lifetime warranty, and 2-5 day USPS shipping in the United States. Not a bad deal.
Best iPhone XS protective cases
Keeping your iPhone protected is the number one reason you should have a case. Here are some of the sturdiest, safest cases you can get.
LifeProof NËXT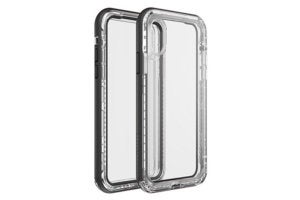 Price: $79.99
Colors: Black, violet, army green, pink, dark blue
Wireless charging: Yes
Highlights: Drop-proof. Dirt-proof. Snow-proof. That's what the LifeProof's NËXT case guarantees. The NËXT is aimed at people who love the outdoors or who just want protection for their phone that goes the extra mile. It handily survives drops up to 6.5 feet and shields the ports, mic, and speakers of the iPhone XS. But while durable, it's also got an easy and comfortable grip thanks to its rubber bumper.
Lifeproof offers a 1-year warranty and includes 8 to 13 business day shipping.
Olixar Manta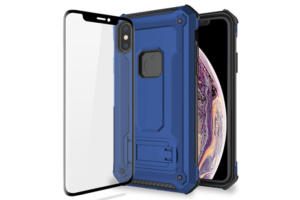 Price: $29.99
Colors: Black, blue
Wireless charging: Yes
Highlights: Olixar's Manta is a rugged, futuristic-looking case that's ready to handle some of the worst drops. It adds even more protection thanks to a tempered glass front cover that comes with the case. The rubber bumper on the sides are also soft to the touch and makes the buttons responsive. And its robotic-looking kickstand that flips out the back tastefully blends in with the overall design.
Olixar's cases come with a 2-year warranty and the company includes shipping in the U.S.
Casetify Impact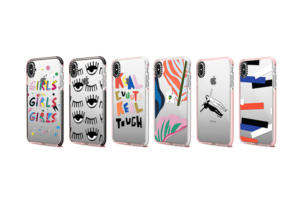 Price: $45
Colors: Huge number of designs and even custom cases
Wireless charging: Yes
Highlights: Casetify is one of the most unique and colorful case makers around. The company has a range of artsy cases with different prints and designs for the iPhone XS Max, XS, and XR models. You can even decorate your own case. (A plain, clear option is also available for $10 less.) These cases are sturdy too, earning Casetify its slogan of "Real Cute. Real Tough." The Impact Case is "military grade" and can survive drops of 6.6 feet.
One downside is that Casetify appears to only offer a 6-month warranty. But shipping on orders of $35 and up are free worldwide.
Best iPhone XS wood cases
Add a natural look to your iPhone XS with these cases carved from premium wood.
KerfCase Alloy Case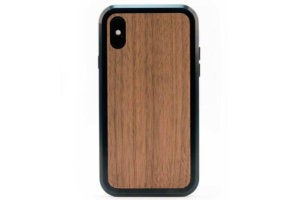 Price: $159.99
Colors: Wood, leather (for $219)
Wireless charging: Yes
Highlights: The team over at KerfCase knows their way around wood. Manufactured in the U.S., the handmade Alloy Case isn't cheap, but it definitely feels expensive. The case consists of two parts: A removable wood backing lined with suede and a thick, metal rim. The encasings around the buttons are made out of wood, however.
All of the cases from Kerf Case are handmade in the U.S. and come with a lifetime warranty covering repairs. Shipping in the U.S. is included and should arrive within 2-4 business days via USPS. If you so desire, you can include your own engraving or image at no additional cost. You can also get this case in leather instead of wood for $219.
Mous Limitless 2.0 Wood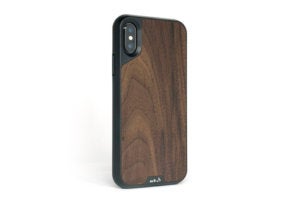 Price: $39.99 (regularly $69.99)
Colors: Bamboo, walnut wood
Wireless charging: Yes
Highlights: Mous's Limitless cases come in the same style but in a variety of prices and materials, including bamboo, leather, carbon fiber, walnut wood, and even shell. This particular case comes in either bamboo or walnut wood.
They aren't cheap. But the company's AirShock technology promises the cases will deliver maximum protection. How do they know? Well, they slammed them with hammers to prove it. Mous offers free shipping on orders over $75 and a limited lifetime warranty.
Best iPhone XS thin cases
So you don't want a bulky case? These ultra-thin cases will protect your iPhone and make you forget you have a case on it at all.
Moshi SuperSkin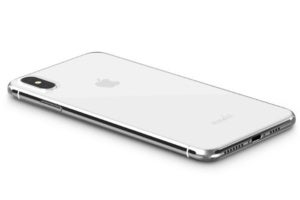 Price: $29.95
Colors: Clear, black
Wireless charging: Yes
Highlights: The 0.35-millimeter thin SuperSkin case from Moshi is nothing short of a miracle. You can barely tell the iPhone XS Max is wearing a case when it's on. But we can't guarantee this "naked" case will provide much protection outside of preventing scratches. It's still unbelievable, though.
All Moshi products have a 1-year warranty. The company also offers free 5 to 7 day shipping to the United States.
Totallee Thin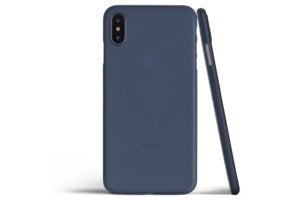 Price: $25
Colors: Matte frosted clear, matte frosted black, matte solid black, matte grey, matte navy blue, glossy clear, glossy jet white, glossy jet black
Wireless charging: Yes
Highlights: At 0.02 inches thin and 0.1 ounces light, this case from Totallee is among the thinnest and lightest you can buy right now. It may be simple in design, but it comes in a wide range of neutral colors in both matte and glossy finishes. The aesthetic is subdued but elegant and reasonably priced at $25. It's perfect for protecting your iPhone from scratches and light drops, but not from more sinister falls. The iPhone XS is very durable on its own though, so you might be fine without a more rugged case.
It also comes with a 2-year warranty and a 30-day money-back guarantee. Orders over $35 ship worldwide for free within one business day, so it might be worth buying two cases. If not, you can pay $4.99 for 2-5 business day shipping or $8.99 for 1-3 day express shipping.