A brilliant iPad port of one of the greatest turn-based strategy games of 2016, Civilization VI, is just of one of our picks for this week's "Awesome Apps of the Week" roundup. In addition, we've got neat updates for the official Reddit and Shazam apps, plus a game that you control… using your eyebrows?
Check out our picks below — and have a very happy holidays!
Shazam
Music recognition app Shazam was most recently in the news due to its acquisition by Apple for an estimated $400 million. While some of the companies and services Apple buys instantly get shut down, however, Shazam's iOS app got an update this week.
The update offers new offline capabilities which will let you identify songs even when you're not connected to the internet. Well, kinda! You won't get an ID straight away, but the app now lets you tap the blue button to recognize a piece of music and then, when you're next on WiFi or have cellular data, it will notify you of the song. A useful update.
Available for: iPhone, iPad
Cost: Free
Get it from: App Store
Civilization VI
This has been a great year for high quality game ports turning up on iOS. What better way to cap off 2017, then, than with a superb HD port of Sid Meier's Civilization VI for iPad? While 90 percent of you will no doubt be familiar with the Civilization franchise, if you're not, it's a 4X game — meaning that it's a strategy game whereby your job to eXplore, eXpand, eXploit, and eXterminate your way across maps, en route to domination.
This is an incredibly deep game, which doesn't appear to have lost too much of a step since arriving on Mac and PC last year. The touch controls work well (although you can also use a Smart Keyboard if you want to keep your familiar shortcuts), the graphics look good, and the gameplay is immersive as ever.
The game itself is free to download, but you'll only get the first 60 turns before having to shell out $59.99 for a full unlock. That's a lot for an iPad game, but it's totally worth it in this case. You'll need a newer iPad to play it, though!
Available for: iPad
Cost: $59.99
Get it from: App Store
Rainbrow
We move from the majesty of Civilization VI to a game you control with your eyebrows for our next "Awesome Apps" entry. Titled Rainbrow, this game created by Washington University computer science graduate Nathan Gitter utilizes the TrueDepth camera system on the new iPhone X to create a truly unique game mechanic.
The game is, essentially, a variation on a classic format as you move a character — in this case, an emoji face — around to collect on-screen points, and avoid obstacles. Raising your eyebrows will move the emoji up, grimacing moves it down, and keeping your face neutral means that you remain stationary.
As games go, this one is fairly simplistic, with the protagonist and antagonists both represented by emojis, and the goal being nothing more complex than gathering as many points as you can, before you die. Still, it's a nifty concept, and a fun demonstration on how the TrueDepth camera system can be used for some wacky innovation. Sure to amuse folks around the Christmas table!
Available for: iPhone X
Cost: Free
Get it from: App Store
Reddit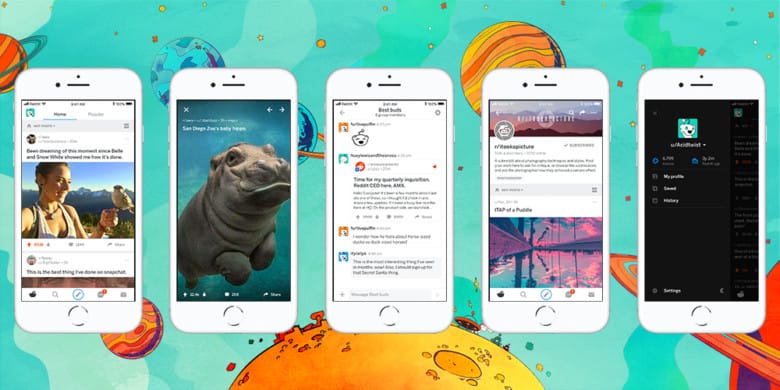 Reddit's official iOS app got its biggest update since launching back in April 2016. Designed to help it compete with popular third-party Reddit apps like Apollo, the new update includes an added Theater Mode that lets users check out full screen GIFs, images, and videos in both portrait and landscape mode. There's also the ability to open links in Safari View Controller, rather than the native in-app browser.
In addition, there are live comments and a new chat feature, a "Mod Mode" for moderators to approve, junk and flag content, a "Mod Queue" for managing big subreddits, and a whole lot more. If you're someone who reads Reddit a lot, and uses a mobile device to do so, this update is indispensible.
Available for: iPhone, iPad
Cost: Free
Get it from: App Store